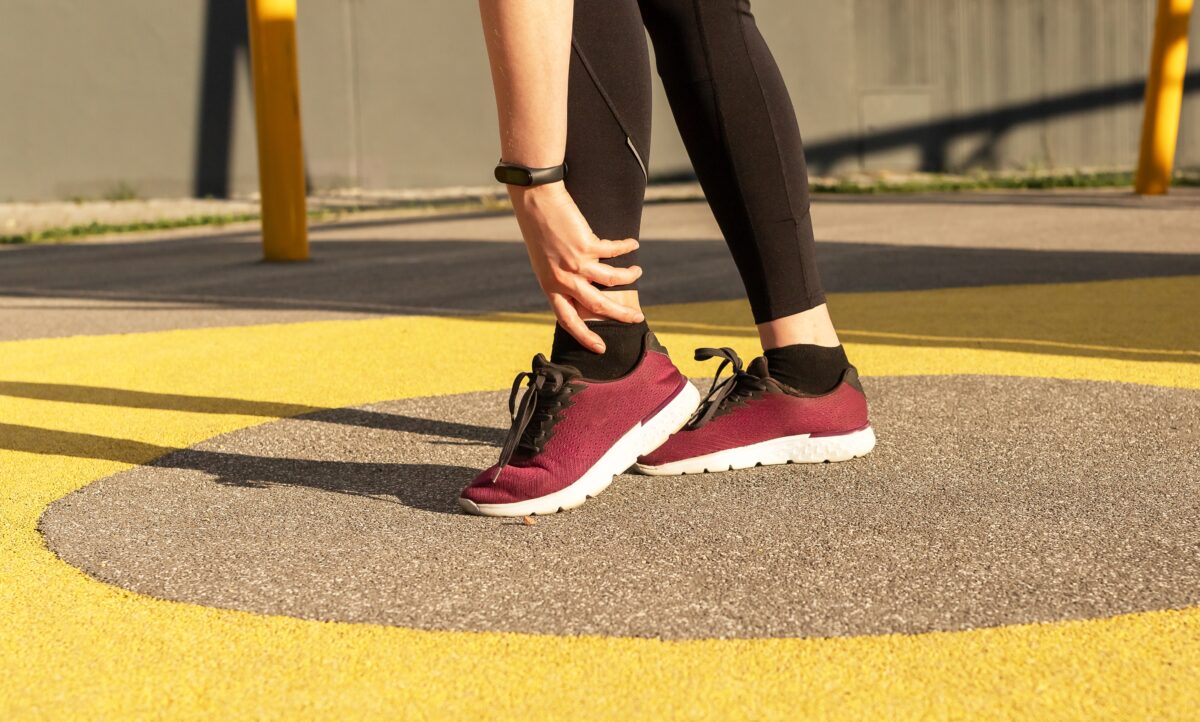 Nearly 33 million U.S. adults suffer from osteoarthritis, according to the U.S. Centers for Disease Control and Prevention (CDC), and the disease is known to cause joint pain, aching, stiffness, and swelling in the ankles and the feet. [1] But those battling the common form of arthritis — and the mobility-inhibiting symptoms it brings on — aren't without treatment options.
Read on for an in-depth look at osteoarthritis and how EB-A7, a medical food that can alleviate symptoms by correcting underlying metabolic deficiencies, is helping sufferers to feel and move at their best.
To receive additional information or to see if EB-A7 is right for you, you can view the EB-A7 page here and  don't hesitate to contact the expert team at Caruso Foot and Ankle, New Jersey's most trusted podiatric care provider, at 732-366-9866.
What is osteoarthritis?
Osteoarthritis is a degenerative joint disease that can affect one's hands and fingers, hips, neck, lower back, ankles, and feet. Though medical professionals are unsure of its exact causes, osteoarthritis occurs specifically when joints' cartilage and different tissues break down over time, according to the National Institutes of Health (NIH).[2]
This process is distinct from the normal wear and tear associated with physical activity. But over months and years, as osteoarthritis damages foot and ankle joints by causing tissue deterioration, the associated pain, inflammation, and mobility-related obstacles often prompt sufferers to cut back on their movement. Reduced physical activity can lead to weaker muscles and greater joint strain, amplifying the symptoms and pain of osteoarthritis.
Osteoarthritis sometimes impacts the shapes of joints as well as bones — potentially causing pieces of bone and/or cartilage to break off (known commonly as "bone spurs"). The painful byproduct of the degenerative disease can result in further discomfort and make mobility a larger challenge yet, especially when it comes to osteoarthritis of the ankles and feet.
What are the symptoms of osteoarthritis?
As mentioned, osteoarthritis symptoms include aching, pain, stiffness, and swelling of the foot and ankle (and possibly several other parts of the body). However, the severity and prevalence of these symptoms vary dramatically from person to person depending on factors such as the disease's progression. Typically, osteoarthritis symptoms are mild at the outset and pass with around half an hour of rest from exertion of the problem joints.
As osteoarthritis progresses, symptoms become more pronounced, activities involving the foot, ankle, or other problem joints can become increasingly difficult, and pain often spikes while one is at rest or sleeping, according to the NIH.
There's no blood test for osteoarthritis, but medical professionals can diagnose the disease with a combination of X-rays and MRIs, per Mayo Clinic. Although the former don't show cartilage, they can shed light upon cartilage loss by displaying narrowed spaces between bones themselves. Bone spurs also appear on X-rays, whereas MRIs show cartilage and are sometimes used to learn more about the specifics of the case at hand.


Who can suffer from osteoarthritis?
In general, the chances of encountering osteoarthritis increase with age, and elderly persons are, therefore, more likely to develop the disease, according to the NIH. Studies have found that women (and particularly women over the age of 50) are comparatively predisposed to suffer from osteoarthritis, and obese individuals, as well as persons with a family history of arthritis, may likewise have a greater risk of osteoarthritis.
That said, osteoarthritis can and does occur in young adults, namely those who play sports and place continued strain on their joints, per Mayo Clinic.[3] Additionally, osteoarthritis can occur at any age following joint injuries — both immediately and even years after the damage in question appeared to heal.
What is EB-A7?
EB-A7 is a medical food designed to correct the underlying metabolic deficiencies associated with osteoarthritis and, in turn, remedy the symptoms of the disease itself. Contrasting over-the-counter treatment options, every dye-free, gluten-free, and vegan EB-A7 capsule contains active ingredients that are comparatively easy for the body to digest and absorb.
Among the clinically proven ingredients in EB-A7 are turmeric and SAM-e, which multiple studies have found to be effective osteoarthritis treatments.[4] For a comprehensive breakdown of what's in EB-A7 and how more patients than ever benefit from the medication, check out Caruso Foot and Ankle's in-depth analysis.
How else does Caruso Foot and Ankle treat osteoarthritis?
Since opening its doors in 2016, Caruso Foot and Ankle has provided top-quality care to residents in and around Freehold, New Jersey. Led by Dr. Rose Caruso, the esteemed podiatric practice's professional team has experience diagnosing and treating foot and ankle conditions with a combination of therapy, medication, and, as required, surgery.
 When it comes to osteoarthritis, Dr. Caruso and her expert staff employ the same level of care and attentiveness in order to help sufferers get their symptoms under control and feel their best. Every patient is different, but from diagnosis to implementing varied treatment options, including EB-A7, Caruso Foot and Ankle strives to help put osteoarthritis pain and discomfort in the rearview.
Is EB-A7 right for me?
EB-A7 — which, as mentioned, contains various anti-inflammatory active ingredients — has been shown to have antioxidant properties. While there's limited research on the medical food's use specifically in treating osteoarthritis in the ankles and feet, more than a few studies have linked EB-A7's individual ingredients to positive clinical outcomes.
Additionally, it's important to note that EB-A7 is designed to complement — not replace — existing osteoarthritis treatments and medicines. Along with proven prescriptions and physical therapy, the medical food has the potential to reduce joint pain and minimize the symptoms of foot and ankle osteoarthritis, thereby making mobility and exercise easier.[5]
Besides helping you feel and perform optimally in spite of the degenerative disease, these benefits can lay the groundwork for strengthened muscles, which can then reduce the strain and pressure on joints. Ultimately, beating osteoarthritis is a matter of coordinating with trusted experts to develop and act upon carefully tailored treatment plans.


What sets Caruso Foot and Ankle apart from other podiatric offices?
Expanding upon the significance of developing treatments that factor for the patient's unique needs, Caruso Foot and Ankle prides itself on providing stellar personalized care — not one-size-fits-all treatments that sacrifice results for expediency.
 For osteoarthritis sufferers, this means benefiting from a comprehensive plan, adjusted based on their care requirements and featuring potentially game-changing options, including EB-A7, to reduce the severity of the disease's symptoms and minimize the impact they have on everyday activities.
From your initial consultation to the moment you overcome osteoarthritis, you'll feel at home with the dedicated, friendly, and results-minded staff at Caruso Foot and Ankle. To book an appointment or to receive more information, don't hesitate to contact the trusted New Jersey podiatric practice at 732-366-9866.
[1]
https://www.cdc.gov/arthritis/basics/osteoarthritis.htm
[2]
https://www.niams.nih.gov/health-topics/osteoarthritis
[3]
https://www.mayoclinic.org/diseases-conditions/osteoarthritis/diagnosis-treatment/drc-20351930
[4]
https://trialsjournal.biomedcentral.com/articles/10.1186/s13063-019-3327-2
[5]
https://www.pennmedicine.org/for-patients-and-visitors/find-a-program-or-service/orthopaedics/foot-and-ankle-pain/foot-and-ankle-arthritis-treatment