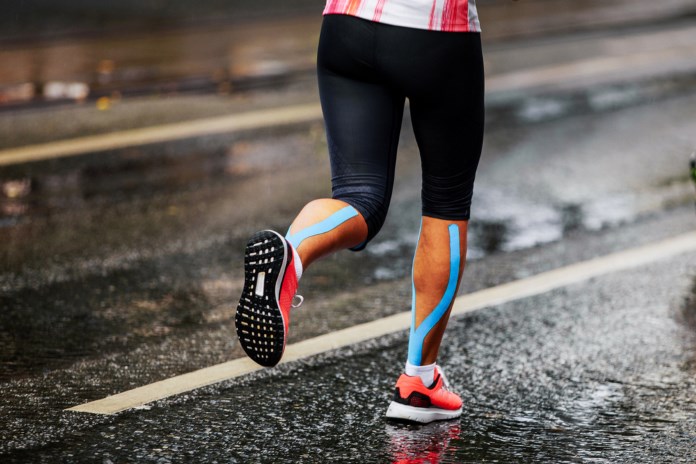 Kinesio Taping is Not Just for Olympic Athletes
In a climate where athletes compete and win or lose within a fraction of a second, it was once believed to be a disadvantage if someone thought that you had an injury. Taping yourself up wasn't something you wanted anyone to see. It was like telling your competitors that you had physical limitations. Today, all of that has changed.
If you've watched the Olympics you've likely seen plenty of brightly colored tape on the arms and legs of many top athletes. It is called Kinesio Tape, and it was invented by a Japanese chiropractor named Kenzo Kase in the 1970s. One example of a good brand of kinesio tape is Rocktape. While its main purpose is to decrease discomfort from injuries, Kinesio taping is a workhorse and doesn't stop there. Kinesio tape supports muscles and joints and stabilizes them without restricting motion. It also decreases inflammation by microscopically lifting the skin, which helps to increase circulation and movement of lymphatic fluid, accelerating healing.
Today, upwards of 85 percent of Kinesio taping applications are used with the general patient population for rehabilitative purposes. Practitioners who routinely use it believe that it helps facilitate the body's natural healing process. It does this by allowing free movement of lymphatic fluid and reducing friction between the tissues in the skin. Its benefits offer a patient support during an injury and better outcomes for rehabilitation.
Kinesio Taping for Plantar Fasciitis 
If you are feeling foot pain on the underside of your heel, you may be suffering from plantar fasciitis. As part of your physical therapy plan for plantar fasciitis, there are many different modalities of treatment and Kinesio taping can be part of your successful rehabilitation. The treatments focus on managing the pain and inflammatory process and the underlying causes. Kinesio tape works to stabilize the fascia ligament to promote healing. The main goals of using kinesiology tape for plantar fasciitis include:
Decrease pain
Take the pressure off of your plantar fascia
Support your foot's natural arch
Facilitate muscles surrounding your foot to provide more support
By using kinesiology tape on your foot, you may be able to provide better support to your arch and decrease the pain and pressure on the plantar fascia. This may help you return to normal walking and running sooner.
Kinesio Taping for Tendonitis
Here at Caruso Foot & Ankle, we see a variety of tendonitis conditions including Achilles tendonitis, posterior tibial tendonitis, peroneal tendonitis, and others. All of these conditions occur either on the outer, inner, or back of the ankle, and/or on the top of the foot. Tendonitis is one of the most common causes of foot and ankle pain. It occurs when there is overuse during activities or stress put on the leg, foot or ankle such as during running.
In many cases, an effective option for tendonitis is Kinesio taping. Kinesio taping helps with tendonitis because it is very thin and elastic and can be applied over the injury. It helps to stabilize your foot and prevent any unhealthy movements. Unlike traditional tape, Kinesio tape's elasticity allows for motion within healthy limits. It can be worn longer than traditional tape and helps to prevent further injury. This may allow you to return earlier to running and everyday activities.
This article is part of our Discussion Series on Running Injuries. If you have questions about kinesio taping and believe it could help you, feel free to Contact Us with questions or you can Make An Appointment to see Dr. Caruso.